AC Tune-Up Service in West Palm Beach, FL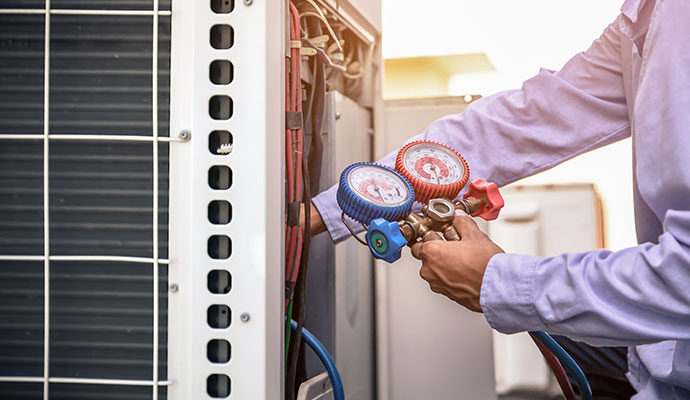 AC tune-up service is very important to keep your home comfortable and keep the air conditioner in excellent condition. You and your family depend on your air conditioner, and you need it to always keep your home cool during the summer months. Ewing & Ewing air conditioning developed its comprehensive ac tune-up to keep your system running smoothly and keep your family cool during Florida's hottest months. 
Keeping your AC well-maintained is the best way to keep it efficient. After about a year, many of the coils and motors that comprise your AC system need to be cleaned or worked on, and without this work, you'll see a sharp decline in the efficiency of your air conditioner. Well maintained air conditioners will save you money throughout the summer months on your home's cooling costs. 
Get starts today - call us for air conditioning services at 561-220-6484 for free estimates. 
AC tune-ups with Service Experts at WPB
When you call our Service Experts for your ac system tune-up, our service experts come with a full visual inspection along with a full cleaning setup. Moreover, trust the professionals at Ewing & Ewing to keep your AC system working properly and efficiently. Our maintenance system will maximize your system's efficiency and prevent unnecessary expensive breakdowns.
General Steps of AC Inspection 
Calibrating thermostat
Inspect oil and/or air filters
Check blower components
Gauge airflow
Check all electrical connections
Confirm proper system operation
Confirm quality of installation
Examine the area around the system
Check system clearances
Examine overall condition
Examine condenser and evaporator coils
Evaluate starting capabilities
Assess safety controls
Measure temperature contrast in supply and return
Observe refrigerant pressure
Examine condensate drains
Common Steps of AC Tune-Up
Replace or clean standard home air filters
Tightening of electrical connections
Assess volts and amps
Lubricate all moving parts
Clean condensate drain
Apply protective coating
In-place cleaning of blower components
Assess cooling cycle
Issue biocide treatment
Clean condenser coil
Our Service Area
Contact us for your ac installation, ac cleaning, ac tune-up, ac repair, and other maintenance work at Boca Raton, Boynton Beach, Delray Beach, Greenacres, Hobe Sound, Jensen Beach, Palm Beach, Gardens Royal Palm Beach, and in other South Florida areas. 
Schedule Our West Palm Beach AC Tune-Up Service Today!
When you want to do right by your system, you deserve the most dependable team in town. At Ewing & Ewing, we're experts in air conditioning units of all shapes and sizes, providing repair and maintenance services on your schedule. We believe in providing affordable quality, guaranteeing care you can count on at every appointment. So hurry up and call us at 561-220-6484 or contact us online today!