AC Coil Cleaning & Repair in West Palm Beach
It's always refreshing to step into a cool, comfortable home on a hot, humid summer day. Since 1902, when Willis Carrier invented the modern Air Conditioner, many people find it unimaginable life without AC.
Every AC will need some normal cleaning and maintenance to remain functioning at its best. AC coil cleaning is a crucial part of air conditioning maintenance and can aid you in saving money. When the AC fails to cool the indoor air rapidly or stops working properly, repairs are needed as soon as possible.
With more than 40 years of experience, Ewing & Ewing Air Conditioning has been an industry leader in air conditioning services for customers in West Palm Beach and the surrounding areas. Call 561-220-6484 for reliable AC coil cleaning and repair service.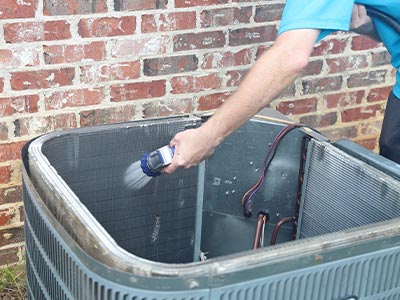 Why is AC Coil Cleaning so Important in West Palm Beach?
Air conditioning coils collect dust, debris, dirt, and other pollutants during regular operation. Over time, this accumulation decreases the system's capability of transferring heat inside and outside of your West Palm Beach home. Your AC will work much harder to cool the home, resulting in higher energy costs.
Accumulating pollutants can also cause the AC coil to seize up and the air conditioning unit will stop cooling. So it's important to clean your AC coil regularly, and Ewing & Ewing Air Conditioning will do just that for you.
AC Repairs Offered by Ewing & Ewing in West Palm Beach
Modern AC systems are high-quality mazes of ducts, pipes, electrical circuits, and wires. Our technicians have the experience and skill to identify and repair your air conditioning problem while observing industry-safe practices. Types of AC repairs we offer:
Capacitors
Compressors
Thermostats
Freon and Refrigerant lines
Motors
Air duct systems
Depend On Ewing & Ewing AC for Your AC Services in West Palm Beach
When your air conditioning stops cooling, can count on us to clean and repair your AC coil. We can diagnose the problem and solve it promptly and thoroughly. Every West Palm Beach customer is very important to us, and we will take care of your problem with the utmost priority.
Other services we provide include heating repair, duct cleaning, indoor air quality services, and the FLIR camera. Call 561-220-6484 or contact us online today.
Customer Reviews from West Palm Beach
Completed Jobs from West Palm Beach
Blogs related to West Palm Beach