Biggest Pitfalls to Avoid When Hiring an HVAC Contractor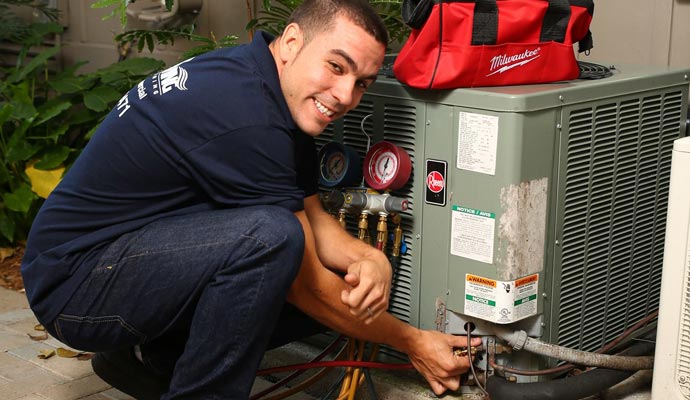 To remain in business, HVAC companies do not need to stand out from the competition in areas where air conditioning is a necessity and not a luxury. But to truly thrive in such an environment and become an industry leader, a company needs to exceed the efforts of peers in products, services, and dependability.
For customers seeking an honest, reliable, and knowledgeable HVAC contractor in West Palm Beach FL and its surrounding communities, the choice is clear: Ewing & Ewing Air Conditioning is the company to choose when you need cooling, heating, or duct cleaning services in South Florida. We also can improve your indoor air quality with a wide variety of air-cleaning options that include antimicrobial filters, ultraviolet lights, dehumidifiers and much more!
Finding a top-quality HVAC services provider can be one of the toughest tasks that any business owner or homeowner has to accomplish. Because your air conditioning and heating systems need to be cleaned and maintained on a regular basis to avoid premature repairs and breakdowns, it's extremely important to create a long-lasting relationship with the right HVAC contractor.
To make sure you find a first-rate HVAC contractor like Ewing & Ewing Air Conditioning, you must make sure to be careful and thorough in your search. Here are some of the biggest pitfalls a homeowner or business owner should avoid when seeking an HVAC contractor:
Failing to Check the Reviews
Before you even consider hiring an HVAC contractor, you should check them out online. Because most businesses are listed on Google, you can see what their clients have to say about the quality of their service. Assessing customer reviews will help you make the right decision.
Failing to Check their License and Insurance
The HVAC Contractor of your choice should be certified to operate at a specific level of a particular field. Because HVAC companies' licenses vary in terms of levels, fields and state laws, it's best to check the legal accuracy of their license through reliable online resources. Don't forget to check the copy of their working insurance, liability insurance, and automobile insurance to be on the safe side.
Failing to Obtain a Preventative Maintenance Contract
Proper maintenance will prolong your system's life. That is why you'll need to get the preventative maintenance contract. Doing so will help you avoid any risk of premature replacement or damage to your HVAC system.
The HVAC Contractor West Palm Beach FL You Can Trust
When you're in need of an HVAC contractor in West Palm Beach FL or its surrounding communities, be sure to contact Ewing & Ewing Air Conditioning online or give us a call at 561-220-6484 to request an appointment today! With us, we guarantee you're in trusted hands.