Air Conditioning West Palm Beach | How Does A/C Work?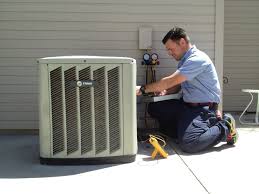 Air Conditioning might seem like a simple concept, but have you ever wondered how it works exactly? Here we can try to dispel some myths about air conditioning.
How it Works
While most people associate air conditioning with cold, the science behind making your home cooler actually deals with the transfer of heat. When that heat is lost or removed, the remaining cold air cools your home. The outdoor unit is usually located in the rear or side of your house and it is where the heat from inside your home is dispersed. It contains the compressor, condenser coil, and a fan. The heat absorbed from your home's air is transferred to the refrigerant and then pumped to the outdoor unit. As this heat is absorbed and moved by the refrigerant to the outdoor coil, it passes through the compressor.
Our Process
When it comes to air conditioning, it is important to recognize that we are not cooling hot air in a space. Air conditioning removes hot air from a space, leaving only cold air. Here at Ewing & Ewing, we have been listening to our customers' needs since the seventies, so we know how to find the right solutions. We specialize in assessing your homes individual needs and developing a plan to get your AC up and running.
Air Conditioning West Palm Beach
Ewing & Ewing are here to meet all the needs of our customers. We have been in business as a family for decades and are ready to bring that compassion to the customer. Call us today if you have any questions!